UK Origin Mattress Ticking Manufacture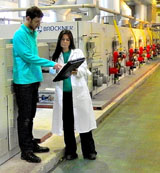 Steven Hargreaves Textile Group is a specialist UK textile manufacturer of 100% cotton contract crib 5 mattress ticking 'British Standard 7175'.
The flame retardant and anti-microbial treatments that we use are produced locally near to our factory in Brighouse, West Yorkshire HD6 4DJ. From this location we distribute to a global customer base comprising clients in the UK, Europe and China.
The FR treatment uses green chemistry derived from entirely natural elements and is completely solvent free. It provides a soft handle and is readily biodegradable. Importantly it is ph neutral to protect the physical properties of the material such as tensile and tear strength. This treatment meets all European Legislation in that it is APEO free, Halogen free and non brominated.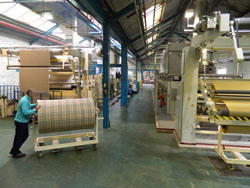 In terms of FR performance the major aspect is that there is no afterglow on the fabric after the flame extinguishes. Afterglow or small red embers can often re-ignite the fabric and cause particularly a medium hazard Crib 5 mattress composite to fail.
Another important benefit to the mattress once it is in use is the non hydroscopic nature of this FR chemistry which prevents the cotton cover from feeling damp in certain atmospheric conditions.
Anti-microbial Protection for hygienic freshness.
Global Logistics
We recognise a need for the cost effective Global logistical shipment of goods. We can provide expertise in the movement of International consignments from port to port (Air, Sea & Road) Advice and assistance with forwarding and customs clearance to destination.